Last year we visited Hawaii for our 24th Anniversary.  
My wife fell in love with Hilo and has dreamed of and has been making plans to move there ever since.  While we couldn't go back this year, I wanted to give her a little taste of Hilo again, so I ordered the Hana Deluxe Arrangement that arrived yesterday for our 25th Anniversary.  She was head over heels in love with them.  She put the flowers in our bedroom and said, "This will have to do until we move there and can wake up with these beautiful flowers outside our window every morning."  Thank you for a wonderful display of the beauty of Hawaii we fell in love with. Mark Wells
Dear friends in Hawaii,
Thank you very much for sending my mother a very beautiful bouquet of Hawiian flowers.  She had her 85th birthday and I live in California and could not be with her in Florida to celebrate with her.  I surprised her with one of your beautiful flower arrangements and she was thrilled and it made her very happy. 
I will be calling you again in the near future to send flowers and put smiles on my family and friends faces.
Thank you,
Lynn Safdie from San Francisco, California
Aloha Jenefer,
I just wanted to let you folks know that the flowers made it to Washington today!They are so beautiful!!!  They reminded me of home so much that it brought tears to my eyes!!Thank you so much for all your assistance and for the very beautiful arrangements that you folks provided!!I will make sure to "bookmark" you folks in my web browser so I know exactly who to go to when I need a little "Hawaii" in my Washington home.Mahalo nui loa!!! Schonda
Hi Jenefer,
    I just wanted to let you know that my friend was absolutely thrilled with the flowers! She especially appreciated how they were packaged in damp newspaper to keep them fresh.  Mahalo!
Dan
Aloha Jennifer,
Mom called this afternoon to advise the flowers arrived and ARE BEAUTIFUL.  She lived here for many years and truly appreciates the beauty in all of our local flowers.  THANK YOU and your TEAM so much for making this happen for a great Christmas gift for my mom. 
R/
Susan
Hi Jennefer,
This is a belated thank you for the beautiful flowers that Blooms of Hawaii sent to Maryland for my daughter and son in law's father's funeral. It was very special to have fresh flowers from Hawaii and it meant a lot to my son in law's family. The bouquets were beautiful and arrived in time.  
Sincerely,
Leona B. Morgan
I OPENED THE ORDER AND EVERYTHING WAS MOST PERFECTLY PACKED AND LOOKS GREAT. YOU OBVIOUSLY TAKE A LOT OF CARE IN YOUR PRODUCT AND SERVICE AND IT IS MUCH APPRECIATED. I ANTICIPATE ORDERING AGAIN SOON AND WILL REFER YOU TO SHANNON AT THE SPANISH BAY LODGE IN PEBBLE BEACH. THANK YOU AGAIN FOR FUFILLING MY ORDER SO PERFECTLY. TILL NEXT TIME. EDWARD CHIORAZZI 
Thank you for those amazing flowers that you sent to my dad! He LOVED them! They lasted much longer than any other Hawaiian flowers we shipped in the past! Mahalo, Silvia & Dirk, Nevada
Aloha Jennefer
 As we say in Southern California….Muchas Mahalo!
 The flowers arrived today for my dad.  He doesn't have a computer so he asked me to please let you know.  His ultimate word of approval has always been "splendid."  He says the blooms are "SPLENDID!"  They were all in excellent shape.  Many folks at the hotel have asked about them, so I gave him your information and email address.
He has started a new painting for the blooms.
 I'm looking forward to doing business with you in the future.
 Keaau no ka 'oi, Pat Mc Dorman
Hi Jenn:
I wanted to let you know that the flowers arrived safe and sound and they were a total success and surprise.  My sister absolutely loves them and they are absolutely beautiful!
Thank you so much for your help, patience and wonderful communication!
I'll be using Blooms of Hawaii again....and again...and again!!
Joan


Jennefer,
Just as an update, the flowers came just as you said they would this past Wednesday and they were perfect!! Having the beautiful Hawaiian flowers in our home really made the day special for us and I wanted to thank you again for all of your help throughout the process. Because of your help and the high quality of flowers received, I wouldn't
hesitate to use your company again or refer people to you who are
looking for a tropical arrangement.

Thanks,
Matt
Jennefer,
I have sent Hawaiian flowers from other florists and my sister says that these are the best and freshest ever. You should enjoy my sisters response to them.

Thanks, Jennefer. I've always been very pleased (and the wife, too) with service you have provided over the past few years that I've been ordering from you. Patrick

Hi Jennefer :-)Just a quick note to say thank you so much once again for the outstanding customer service. The leis arrived on time and are absolutely gorgeous. The students just loved them and they were the perfect touch to our ceremony. I will surely be back to order from you in the future. Take care, Juanita

Hi Jennefer,
The leis just arrived in perfect condition and are in the fridge. Thanks again for the wonderful service! Linda

Good Afternoon, I would like to thank you for the beautiful Hawaiian flowers that you delivered to my mother for Mother's Day. Both of my parents were extremely surprised and thrilled to receive the flowers, and told me that the bouquet was absolutely exquisite. Hawaii is one of their favorite places, and they are no longer able to travel. These flowers brought a little bit of Hawaiian sunshine to their home, and made Mother's Day even more special.Best,
Melissa

Thank you, Jennifer. The flowers that I did receive are beautiful and I followed the instructions that you supplied and they will be perfect for my entry in a flower show on Tuesday. I have told people about your company and I know that you will be getting orders from them as you will from me. Great service. Thanks, Nancy

Jennefer,
Thank you for the leis and flowers. They really made our event and people were very pleasantly surprised that we had fresh leis shipped to Montana for our event. It will be the "talk of the town" for some time, I'm sure.
My parents (it was for their 50th wedding anniversary) loved it! Mike & Elise
Jen, We do not have any professional photos, but I wanted to send you a few from friends. I hope you can see the bouquets I made and the arbor! Thanks so much, you helped to make my vision come to life! :) Wendy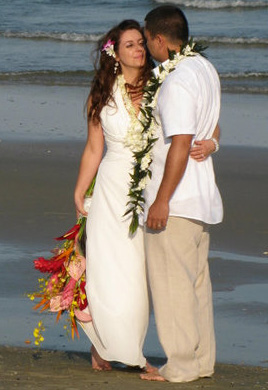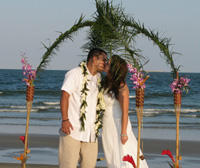 Hello Jennefer,
Your flowers were a huge hit with the client and guests...Packages arrived safely...They are exquisite. Although way larger than expected so I will need to get big vases...I gave out your information several times so you may get some business out of this. I will definitely keep you in mind for future events that require flowers...Thanks again, Peter

They were and beautiful, thanks Jennefer. It is so hard being so far away from dad especially as he is going through hard times.Sending him some Hawaiian Aloha will give him a little piece of his baby daughter over the big puddle between us! -MJennifer

Aloha Jennefer,
I was wanted to say a big mahalo for the beautiful flowers from your company. They truly helped our birthday celebration be a huge success. They arrived in perfect condition and still look as great as the day they arrived. So many people asked where they came from and I believe you will be getting business from many of them in the future. Thanks again for delivering such a wonderful piece of the islands. I will reccommend your company whenever anyone talks about wanting flowers.
Sincerely,
Tom L.
Hi Jennifer,
Everything went great, customer was very happy. Thanks again foryour help and your great service. We will definitely call you again.
Thanks,
Bill
Jennefer,
I have sent Hawaiian flowers from other florists and my sister says that these are the best and freshest ever. You should enjoy my sisters response to them.
John

Subject: Thank you!
" What a treat to get the flowers delivered today. they are absolutely gorgeous. What ever company you used, you should use again. They are extremely fresh and there is not one complaint. Thanks again. Love Anne"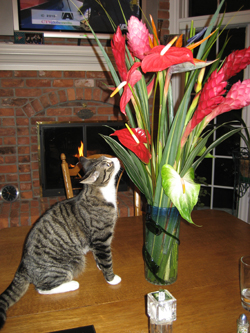 I wanted to share a photo with you of my beautiful wedding thanks to the flowers from blooms of Hawaii. Thank you for making my wedding in Kentucky a tropical paradise. Thank you,
Elizabeth L Oakley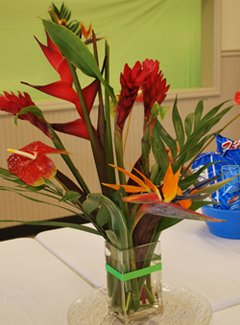 Here is what came this morning. The house is full of flowers. The photos are the arrangements I made for the luncheons, unedited. Had a lovely afternoon. The foliage was perfect. I had never seen some of the anthuriums before so that was a treat. Thank you. SJ Derby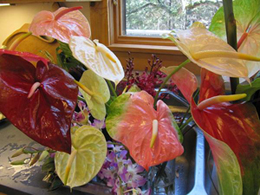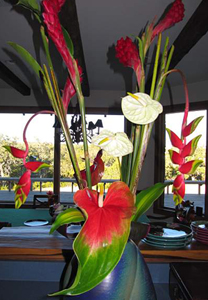 comment: Just wanted to say how beautiful the flowers were. They are so colorful and fresh. It truly feels like Hawaii when you enter the room. Thank you!!!!
Diane I.
Jennefer,
I can not thank you enough! The flowers you sent my sister were beautiful! She was so thrilled to receive them for her birthday, they truly brightened her day! She said the flowers were beautifully packaged and unharmed from the cold snowy Massachusetts weather. Thank you again so very much. I will definitely be back to purchase flowers from your web site!
Mahalo
Roseanne F.

Jennifer, 
WOW!!! The flowers were more beautiful than I ever could have imagined. Some of them are still as beautiful as when they arrived almost 3 WEEKS AGO! We have enjoyed them so much. I can not thank you enough!!! Here are a few pictures of them. THANKS SO MUCH! We will be doing business with you again for sure!
Laurel and Brian Willis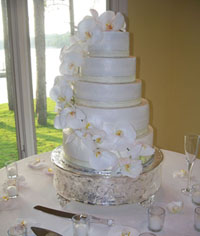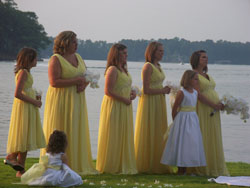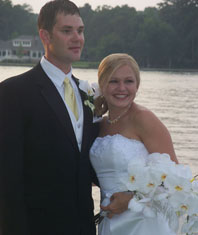 The flowers are so beautiful, they are irresistible!
Thanks for the great service.
Carol

I just got a text from my daughter.
I have not seen them but –
"the flowers came and they amazing! So much fun to unwrap. Incredible!"
I can't wait to see the photos.Thank you.
Karen 
Jennefer,
The leis arrived right on time and were beautiful. Thank you for the great service !!
Jennefer,
I decided not to order at the time I sent the email below but I will be placing an order within the next month. Everyone that I have sent flowers to from you have absolutely loved them.
Thanks and Have a Great Day!!!!
Marsha Curtiss

Good Day! 
The lei arrived just on time and are still beautiful days later. Our luau guests were quite impressed that we had REAL lei from Hawaii right here in Virginia. Thank you so much!
Kathleen O'Malley

Dear Jennefer,
The orchid lei arrived in Oregon today in beautiful condition. My son wanted it for a special friend's birthday celebration and he was very pleased.
Thank you for your wonderful service. I will be ordering from you again very soon.
Much Aloha,
Willette
Jennefer,
Thank you for sending such beautiful, fresh flowers. I will use your company again and again to send flowers. 
JoAnn
Hi 
i received the order today and the waxed ginger are beautiful i'm using them in arrangements for a shower along with lucky bamboo I'm excited they look just the way I wanted them to. I also am happy you sent different heights. 
Thank-you Susan
Thank you again for all your help
She just received it and says of is beautiful
Nancy
Aloha,
I wanted to thank you for your attentiveness to my order. Everything worked out beautifully at my aunt's funeral. It was one of the most uplifting ceremonies I've been to. The leis made it a unique and positive sendoff, which truly reflected my aunt's spirit. Your help in getting the flowers to the ceremony on time is greatly appreciated and made an otherwise difficult time much easier to bare. The flowers were incredible!
Mahalo,
Thea Oculato
I just wanted you to know the Lei showed up in time and it was PERFECT!! our friends said it was the best and we gave them your information as they order them all the time. Thanks again for everything.
M.Hill

Jennefer,
We just returned from our trip to Maui. The bouquet of flowers was so incredibly beautiful. What a treat to enter the hotel room and see the pretty colors and flowers of Hawaii! We didn't know where the chocolates came from, but it was delicious and devoured within a week! Thank you for your kindness. I will definitely recommend you and your company to everyone we know and maybe we'll be able to order some flowers for delivery here to the mainland someday. Thank you again, and we'll be back in 2 years !
Mahalo and Aloha,
R. Paige 


Aloha--jennifer thank you. They came in time and were a perfect touch for the occasion. 
Thank you so much. 
M. Mittal


Jennefer --
Just a note to let you know that they called us tonight to let us know that they LOVED the flowers -- they said that it was the most exotic and beautiful bouquet they had ever seen, and they seemed truly overwhelmed. Thank you SO much!
Best wishes,
Cindy


Hi Jen
Working with you made me feel more confident that everything would go OK - you were always on top of things! I definitely will want more flowers from you and recommend you to anyone that I know!  I have to tell you that everyone loved the flowers but it made it much more special that the beautiful flowers were from Hawaii!  The wedding leis were so special and the bride and groom wore them at the reception.  Also, the "little leis" that I made from the loose orchids were so beautiful, you were right, the flowers just make them!  I used elastic thread so they were perfect on the girls' hair, they stayed put all night long! Thanks again!!!
Monica 


Just wanted to let you know....the leis look wonderful.  Thank you and we'll keep you in mind of any future orders for exotic flowers!
G. Anderson 


Aloha, 
Just to let you know I actually saw the flowers I ordered last time and they were absolutely beautiful!!
Thanks,
Robin


Wow! She is ecstatic! Thanks for all your help!
Thanks, 
Blake Moore


Hi Jennifer, 
I appreciate you getting back to me, Thank you. The flowers did make it and they are sooo beautiful!! Muchas Gracias y Mahalo!! I am new at buying off the internet but you have made this a rewarding experience. 
Thank you once again,
Jose Olvera


Aloha,
Thank you, that will be perfect. This person will be away and returning on the 10th, so that will work out well. Just to let you know I actually saw the flowers I ordered last time and they were absolutely beautiful!!
Thanks,
Robin 


I received them yesterday, they were great the the wife loved them.
Thanks,
Pat


Hi Jennefer,
Sorry I didn't get right back to you. The leis arrived on Wed. afternoon - day earlier than we expected. Grads wore them and also placed around the neck of each parent. It was a great addition to the ceremony. Thanks for your help. You've got my recommendation for others wanting to order leis.

With Sincere Thanks,
Rodney

Jen,
I just got back from my honeymoon and everything turned out perfect. The flowers were wonderful thank you so much.
Thanks 
Liz 


Hi Jennifer,
We just got back from our honeymoon to Hawaii. It was amazing. We actually considered staying and selling flowers ourselves! Haha.
Thanks for the follow up e-mail. The flowers were sent to a friend's house, and they never told me about an early shipment. Haha. I guess they didn't want to stress me out. Either way, the correct flowers arrived at the right time and were totally beautiful. Everyone kept commenting on them. We used them everywhere - down the aisle, on the reception tables and all over the place! All our guests were taking bunches with them, and were wearing them in their hair. It was the perfect touch. They were so beautiful down the aisle. I'll be sure to send a picture when I get them from the photographer. 
Thanks for your help!
A.Taylor


Thank you so much Jennfer! 
All the flowers and leis got there on time for our wedding, they looked beautiful and helped to make this special day even more beautiful! I was so worried that everything would be ok, and it was, just like you promised! Sorry for driving you crazy on the phone!!..but i just wanted my wedding day to be perfect, and it was! 
THANKS!
A.& G. Ross-Smith
XXXX